---
The Extraordinary Camping Adventures
of George and My
Winter '04-'05

Preparations are underway for our trip south.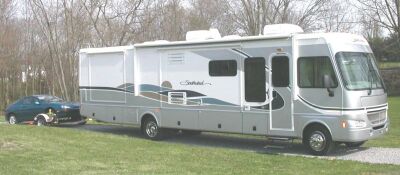 Loaded and ready to go. We will spend the night before departure in the driveway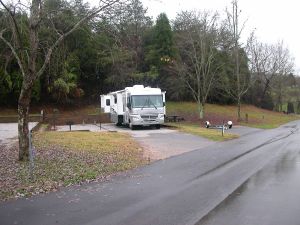 Our first night was spent in Panther Creek State Park, Tennessee. We were the only camper there and it was wet and muddy so we stayed in a handicapped site. All but a few sites are very short so big rigs would have a hard time finding a spot in the busy season. There were hundreds of deer and wild turkeys.
Second night we camped at Magnolia Family Campground just off I-26 in northern South Carolina. It's very convenient with a full hook-up pull-through site so no need to unload the toad. Lots of unoccupied campers.

Next stop Edisto Beach State Park south of Charleston. A nice beach with a Piggly Wiggly just outside the park. The next nearest store is about 50 miles away. Bring your own water as the local water, although potable, is very salty tasting and is not even fit for bathing, in my opinion.

Next was Hunting Island State Park which although in sight of Edisto is about 100 miles away by land. It's about 15 miles from the nearest town which is Beaufort. We were fortunate to be in a site which was only about 50 feet from the water at high tide.

Mayport Naval Station has a campground from which we could watch ships come and go. We were right across from the USS John F. Kennedy which had just returned from deployment. There's a nice beach within walking distance.

The last stop before our volunteer service began was Ocean Pond in the Osceola National Forest.

We're now at Ichetucknee Springs State Park building a new cage for their seven foot Indigo snake.

---

Home Our Rig About Us Latest Adventures Archives Contact Us

---