1 October 2007
- Left home and drove about 211 miles to Cedar Creek Campground (CG) east of Nashville on Old Hickory Lake. It was about our usual 200 miles per day but with a lot of limited access highway it was (time wise) an easy drive. We have until 12 October to get to Ichetucknee Springs for our volunteer stint. We are going via Moselle, MS to spend about a week with the grandchildren there.
It was our first stay at this Corp of Engineers (COE) CG but it will not be our last. I really hate driving through Nashville because there are so many lane changes to make. This CG allowed us to bypass Nashville. Although it was a little tight driving in the CG, the sites were large and private. We were in site 54.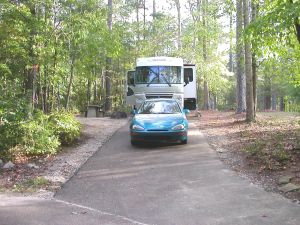 2 October 2007
- We headed for Houston Recreation Area (RA) on Lake Lewis Smith in the Wm. B. Bankhead National Forest (NF) near Houston, AL. It's about 30 miles west of I-65 so we called ahead and were assured there were plenty of spaces available. When we arrived, however, we learned that although there were no other campers there, it was a primitive campground for tenters, with no hookups, and there was not a space big enough for us. The exceptionally nice CG managers, Monte and Ann, offered us an unoccupied volunteer camphost site, #76. So we ended up with a full hookup site for $11 (using our Golden Age Passport). The campground does not seem to be the same one by that name at rec.gov as there are 86 campsites, not 37 as listed. There are two other campgrounds in the area, Corinth and Clear Creek with hookups. We'll have to check them out next time we're in that area.



3-4 October 2007
- Several times we had stayed at a COE CG named Forkland, north of Demopolis, AL and so headed there. We found it had closed down because of funding problems. Fortunately there is another COE CG just west of Demopolis called Foscue and it was nearly full. Most of the 54 sites have full hookups but we chose site 15 without sewer because it is only one of two sites with any privacy. The CG is laid out like a commercial CG, little better than a parking lot. Ants invaded us on the second day which took most of the winter to get rid of. It is only 3 miles to WalMart so stocked up there before going to daughter's house which is way out in the sticks in Mississippi.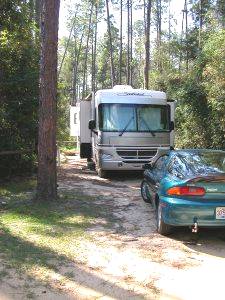 10 October 2007
- We left our daughter's house and headed southeast, through Mobile and into Florida. The Lovebugs were thick. We stopped at Blackwater River State Park (SP) which was very rustic and our site was very private. Major renovations were scheduled for this park including opening up the sites and macadam roads. It's a short walk to the river.
Map of our stops:
With this map you can zoom in on locations and in satellite view sometimes see our campsite. Try Buck Hall just north of Charleston, SC.
View Larger Map
11 October 2007 -
Eastbank
12 October - 31 December 2007
- Ichetucknee Springs SP
1-31 January 2008
- Eastbank
1-23 February 2008
- Ocean Pond
24-25 February 2008
- Kings Bay Naval Base
26-27 February
- Edisto Beach SP
28 February - 10 March 2008
- Buck Hall
11 March 2008
- Shaw AFB
12-13 March 2008
- Broad River
14- 22 March 2008
- McKinney

23 March 2008
- Easter Sunday. We reluctantly departed McKinney Campground and headed north. Our last campground was Cove Lake State Park just off I-75 north of Knoxville.
24 March 2008
- We're back home in Kentucky. It's snowing and has been all day so apparently we returned too soon!