11 November 2008
- Cove Lake SP, TN - Our first stop on our latest adventure. It's only 138 miles from home and less than a mile off I-75, north of Knoxville. The picture is of the same spot two years ago. The price went up from $16 to $18.
We left home late this year primarily because we have a new grandson, Landon, born 22 September but also the weather held so no need to go south. It rained all day and most of the night so car and the rv are a mess.
Upon arrival we had no hot water, just lukewarm. The gas came on but only ran for a short time. I called Atwood (the water heater manufacturer) and the tech told me he thought I had a plumbing problem. He was right. The outside shower valves were open (from when I had drained the system) and the hot water was mixing with the cold.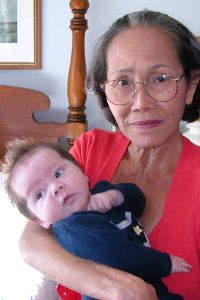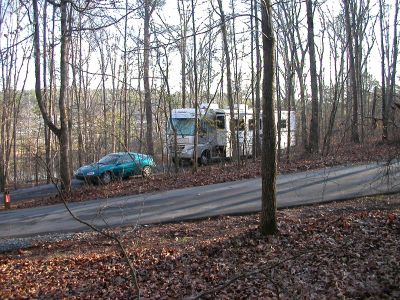 12 November 2008
- McKinney CG - We are in Site #7 of this 150 site COE campground on Allatoona Lake near Acworth, GA. The weather has been cloudy with occasional rain, temps in the 50s.
We had hoped to see our friends Eric and Stephanie who were managers here during the summer but they had left already. More pics and info about
McKinney
.
It's always something. A tire on the tote tank had a blowout and so had to drive about 35 miles to the nearest Tractor Supply in Canton for a replacement. I had replaced the hard plastic tires that came with the tote with pneumatic ones. They are quiet and the tote can be dragged at much higher speeds. The Chinese tires lack in quality but they were cheap. A hitch on the car to drag it to the dump station draws lots of head scratchers.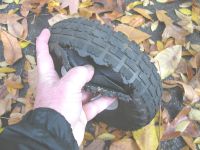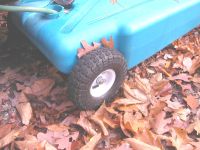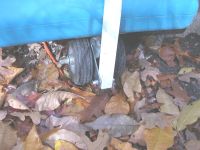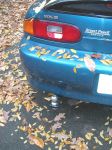 ---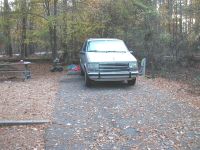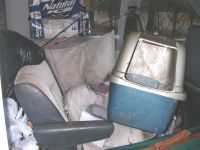 Monday, 17 November:
A legally blind 67-year-old woman knocked on our door Sunday evening. She was cold and hungry and couldn't find her campsite. We took her back to her "camper". She had been living in it with her son and two cats but the son had gotten drunk the night before and had been arrested. We fed her and called her son-in-law who picked her up later that night. There's a fine line between long-term camping and homelessness.
---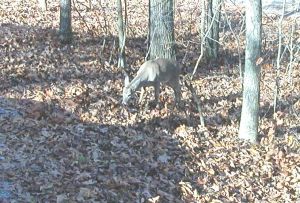 Saturday, 22 November:
Still at McKinney. It's cold this morning, in the low 20s, so the water line had to be disconnected last night and we're using the on board water pump and our tank water. We woke this morning to the sounds of multiple gunshots so deer season must have started today. This gal is safe here in the park though and she seems to know it. I've been watching her out the front window for quite a while. The squirrels aren't as much fun though. They collect hickory nuts and climb into the trees over the camper where they break them open and drop the shells on the roof. It sounds like they're dropping coconuts.
---
Tuesday, 25 November:
We left McKinney yesterday morning and went a little over a hundred miles south to R. Shaefer Heard COE CG which is on West Point Lake southwest of La Grange, GA. It drizzled most of the way but cleared and was quite warm, about 60, when we arrived. We set up in site #7 (below left) and tried to call home only to find out we had no signal at all. We went outside the park to make our calls and decided we would leave this morning. I went for a walk this morning and about 1/2 mile from our site, at site #29 (below right), I pulled out my phone and found I had 5 bars. So instead of leaving we moved to site #29 and will stay here through Thanksgiving.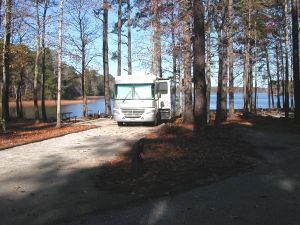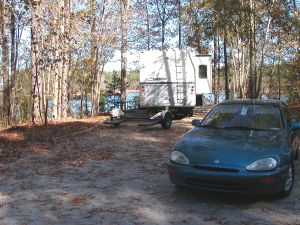 This is my view out the front window while sitting at the computer and what it looks like just outside the door: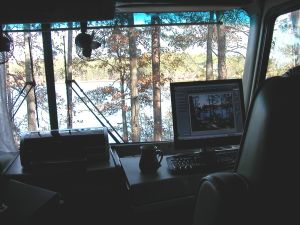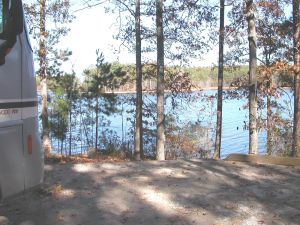 The Corp of Engineer Campgrounds are run by manager contractors who bid for the job. Most are full-timer couples who live on sight and share the long hours required to handle all the campers. The larger parks have two couples who work four days on and four days off. The vast majority are really nice folks. When we arrived here at R. Shaefer Heard yesterday afternoon there were fire trucks and an ambulance at one of the manager's camper. The wife had had a heart attack and had to be taken to the hospital where a blocked artery was opened and a stint inserted. The husband was back at work last evening and again this morning when he reported she was doing fine. More pics and info about
R. Shaefer Heard
.
29 November 2008:
Thanksgiving is over and although almost all sites reservable were reserved, there were a number of walk-in sites available. It's become a tradition to go camping over the holiday and all campgrounds are crowded. Fortunately the sites are far enough apart here that the smoke from all those campfires isn't too bad. It also helps that we are upwind. We remember being at Hunting Island SP, SC during Thanksgiving a few years ago; the smoke was so thick you could barely see your neighbor. Below is a picture of one of our neighbors here:
There's another bad tire on the tote tank. I've ordered a new one from Northern Tool. It should be here by mid-week. This time it was a front tire and with the application of several patches it's holding up ok.
This is such a beautiful spot I want to post a couple more pictures of our site taken from the same point but in opposite directions: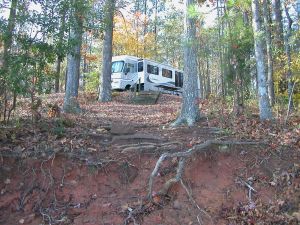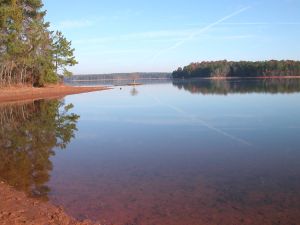 The island with the tree on it (in the center of the picture) is now a peninsula as the COE has been drawing down the lake water level every day. Every morning at about 6 am a horn blows at the dam for about a minute to warn anyone downstream. Then about a half hour later the horn sounds again as the floodgates are opened. The dam is 1.6 miles away but you can't sleep through that horn.
---
Wednesday, 10 December 2008:
On Friday the 5th we left R. Shaefer Heard and traveled another 100 miles south to
White Oak Creek
COE CG which is about 10 miles south of Eufaula, AL. It was our first visit there and although the sites were very close together we had plenty of privacy as there were only about five campers there. We were in site #77, right on the water.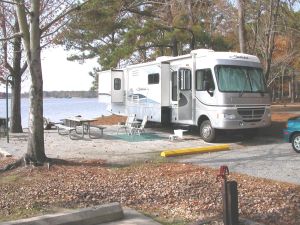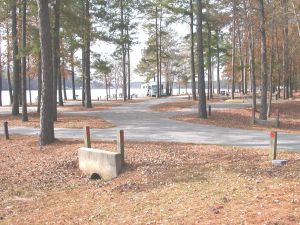 We stayed there until Monday the 8th and then went to Eastbank COE CG in the extreme southwest corner of Georgia. We stopped at Camping World in Dothan, AL on the way and spent about $45 on some repair materials and looked inside some new campers. We'll stay here at Eastbank until the 22nd. We had reserved site #42 but construction of a new bathhouse is to begin there soon so they asked us to move over to site #56. We walk to Florida every day.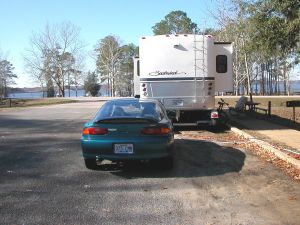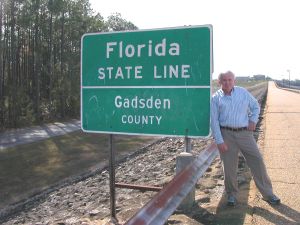 Saturday, 21 December 2008:
It's been a great week here at
Eastbank
with daytime temperatures pushing 80 and nighttime temperatures in the 60s but this morning a front came through with some rain and the temperature dropped into the low 50s. It's supposed to be cool but sunny tomorrow for our trip to Ocean Pond, then warm up again.
We don't usually socialize much with fellow campers but have met several people here whose company we have really enjoyed, especially Ed from MA and John from MS.
I forgot to take my camera with me to Buddy's Market in Sneads, about five miles from the campground. It's an open air market that sells fresh fruits and vegetables and fresh fish and shrimp. We've stocked our freezer with shrimp after stuffing ourselves. We also sampled mullet for the first time, which many consider a trash fish. We thought it tasted great.
When I tried to upload these last comments I found the site was down and don't know how long it's been down.
---
Sunday, 28 December 2008:
We've been at
Ocean Pond
for a week but going back to Eastbank tomorrow as there are too many yapping dogs here for us. The campground is pretty full with locals and you can hear dueling banjos most of the time if you get my drift. We
have
met some nice folks here, a retired Navy guy and his wife and two couples from The Netherlands with whom we spent fun evenings.
We made a trip to Nettles Sausage to stock up and stopped by Ichetucknee Springs to catch up on our friends there.
If you're reading this you know we're now at "georgeandmy.com". Time-Warner's free web space at roadrunner.com decided to change the address, add a banner to our site and make it very difficult to upload to. So it was time to get our own domain.
---
Friday, 2 January 2009, Eastbank:
We walk out on the dam usually twice a day, a two-mile round trip. Below are shots of the campground from the dam and another below the dam. We had some new friends, Vernon and Charlotte from VA, over on New Year's Eve for some wine and hors d'oeuvres but we didn't wait up until midnight. Vernon's a fisherman and caught a couple of catfish below the dam and Charlotte cooked them and some cornbread for our dinner yesterday. Of course My's been generous with the
eggrolls
and sausage.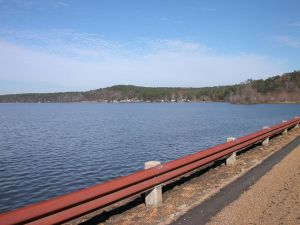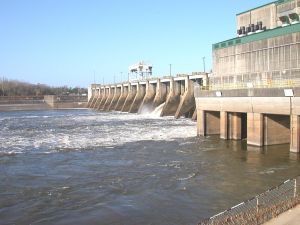 I finally got a picture of Buddy's market.

---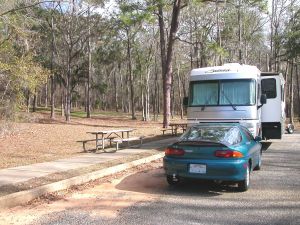 Tuesday, 13 January 2009:
We're still at Eastbank. Starting into our sixth year of "camping" we had never had a medical problem requiring a physician's care until yesterday. My fell getting out of the shower and cracked a rib. I can report that if you do have a medical emergency while traveling it couldn't happen in a better place than Chattahoochee. Local Dr. Abbey Strickland saw her immediately and an x-ray was taken at Jackson County Hospital in Marianna. The staff there was exceptionally kind, not only to her, but also to every patient I saw them come in contact with. The doctor also called in a prescription to the local CVS which included insurance info so no waiting when we picked it up. My's feeling better today. She says it only hurts when she breathes. We're staying at site #46 for another week. A highlight of the past week was a seven-mile bicycle ride with Ed from MA and Bill from OH.
---
Sunday, 18 January 2009:
We'll be on the road again tomorrow, moving south about 70 miles to a small NFS CG called Wright Lake near Sumatra, FL in the Apalachicola National Forest. I don't expect to have cellphone service there so may not be able to keep in touch for a few days.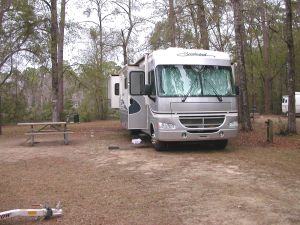 Friday, 23 January 2009:
On Monday we proceeded south as planned and stopped at Wright Lake (site 18). A first and last stop at that campground for us, but you don't know until you actually stay there yourself if it's good or not. Lake Wright would be better named Camp Dog Poop. Although I was lucky this time and spotted the numerous fresh piles around our campsite, neighbor Dave from IA was not and tracked it into his Casita camper before realizing he had it on both shoes. He spent the afternoon scrubbing shoes and carpet. There were several hunters camped there who let their large dogs run loose.
Dave's day wasn't all-bad however as I ran an extension cord to his camper and he shared the electricity from our generator which we ran several hours in the evening and again Tuesday morning. It was very cold and we ran the furnace for the first time this winter. When we have an electrical hookup the two portable electric heaters are enough to keep us warm.