Sunday, 16 October
- Arrived in Arkansas and stayed our first night at WalMart in Pocahontas. Interestingly, I have learned that just a week ago a Corning, NY native with Hornby roots who is in my
genealogical database
died here.
Monday, 17 October
- Arrived at Robinson Point Park COE CG near Mountain Home, AR. We are going to stay here for a week. Got tethering on my phone so don't have to go looking for hotspots anymore. More pictures
here
.
Site 60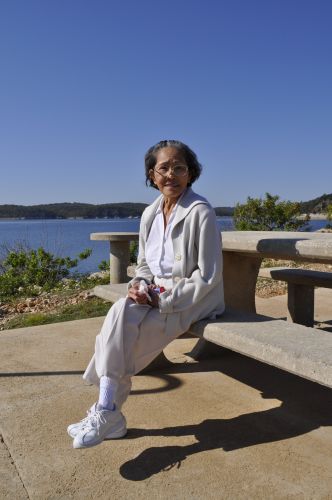 My at Site 87
It was a mile round trip from our campsite to the end of the peninsula and back through previouly flooded campsites 71-99.

There was a flood here last spring which closed more than half the campground. As you may recall water was held back from the Mississippi River to save New Orleans and this campground among many others was sacrificed. Having visited both places, I have to say that it was a bad choice.
In our series on unusal rigs here's a truck camper on a flatbed. They also had an ATV and a jeep on it. With the jeep removed as shown below, the chairs were set up with a TV and a grill.

Sunday, 23 October -
Arrived at Choctaw Park COE CG, Site 12. It's behind the trees, right in the middle of this photo. I liked this spot but My thought it was a bit too isolated. Map
here
.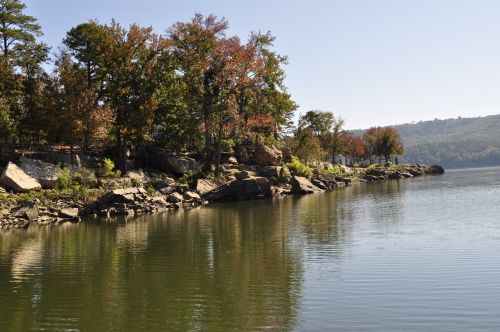 Here's what it looked like from the other side.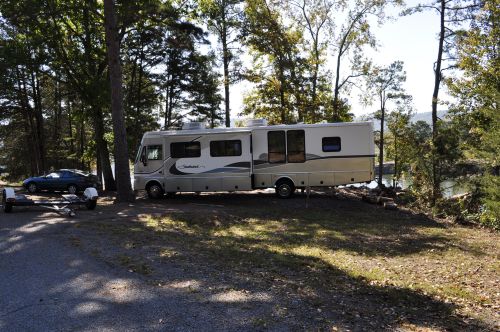 Looking out the door.
Monday, 24 October -
Arrived at Tar Camp Park COE CG (Site 16). No pictures but there's a map
here
. It's a long flat campground with most sites on the river. It's about six miles east of Redfield, AR which has a nice grocery store, laundry and liquor store. We would have stayed here longer but huge speed bumps on which even the car bottomed out made it impossible to use the tote tank. White Bluff Power Plant (coal-fired), which is about two miles away, has one of the tallest chimneys in the world. You can see it and hear the machinery from the campground. This park has more different types of trees in a relatively small area than any place I've ever been.
Thursday, 27 October
- Arrived at Dub Patton COE CG, Site 12. It
is located 5 miles south of Eudora, MS, just north of the Arkabutla Dam. Getting there includes fifteen miles of interstate highway (I-69) which was apparently built for no other reason than to access the casinos on the Mississippi River.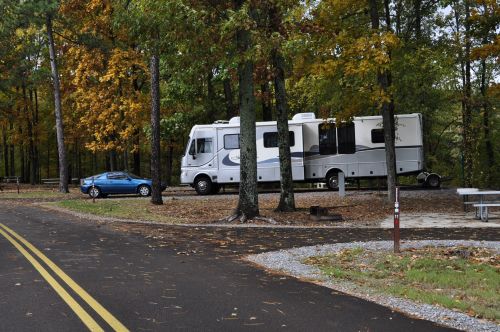 Friday, 28 October
- Arrived at Whitten Park COE CG, Site 16. This is a very shady campground. Map
here
. The Jamie L. Whitten Historical Center (built by the COE when money was plentiful) was behind our campsite, a short walk through the woods. There was a wedding and reception there on Saturday and even though staff insisted the county was dry and no alcohol could have been served, the loudness level of laughter was very high in the late afternoon.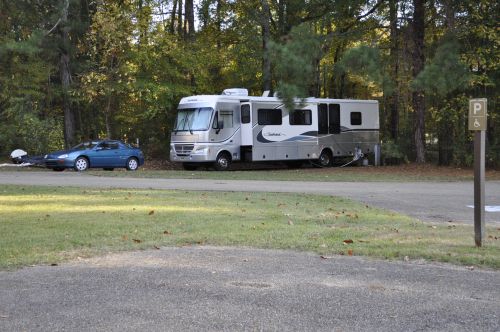 Sunday, 30 October
- Arrived at DeWayne Hayes COE CG, Site 12. This campground is very close to Columbus Air Force Base and we took advantage of the Exchange facilities there. The down side is that planes fly overhead all day. Other than that it's a great campground with some full hookup sites. We stayed away from them though so nobody was near us. There was a little too much shade for the cool weather.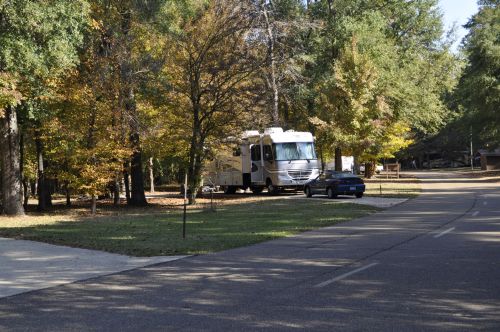 Monday, 31 October -
Meanwhile back home a grandson waits for our return and on Halloween says, "Go ahead, make my day".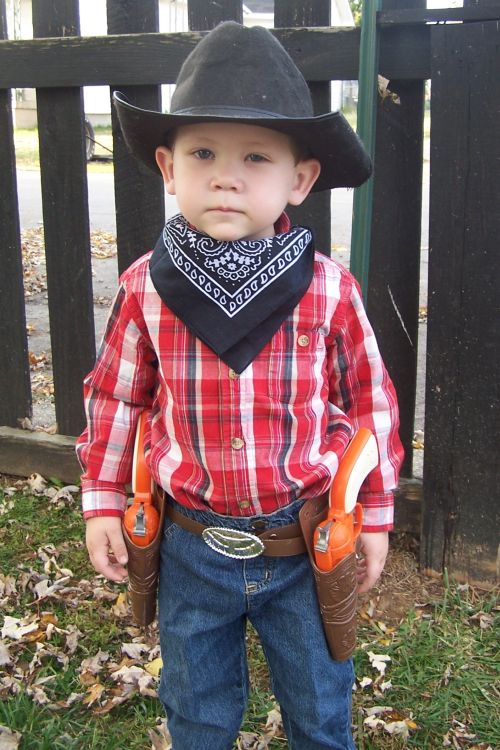 Wednesday, 2 November
- ONed WalMart, Leeds, AL, just east of Birmingham. This is the quietest WalMart we have ever stayed in.
Thursday 3 November
- Arrived at McKinney COE CG, Site 8. The place is going to be completely full tomorrow with more than 100 campers coming in. We have decided to just go on home.
Friday, 4 November
- WalMart, Lenoir City, TN.
Saturday, 5 November
- Home. A great trip. All but one stop was a new location for us. We've got some doctor's appointments to take care of and then plan to head to the beach (probably Hunting Island, SC) in January.
Friday, 11 May 2012 -
We spent February travelling our normal route to Panama City (St. Andrews State Park) and then back home. In April we returned to Axtel Campground (COE). The lake level was a bit lower than when we visited last fall and much lower than a year ago when the campground was flooded.