Town of
Hornby
Steuben County, New York

The Rogers Family
Daniel Rogers was born 19 January 1822 in Covert, Seneca County, NY. He first married Martha Jane Smith, daughter of Irish immigrant David Smith. She died in 1852 and he married second Lois Angeline Roloson, daughter of Peter and Judah Kirby Roloson. His two children with Lois Angeline were named after his first father-in-law and his first wife. He died 9 June 1897 in Beaver Dams, Schuyler County, NY and is buried in Oldfield-Ferenbaugh Cemetery in Hornby.

Photo provided by Susan Moore
from Hornby Historical Society Collection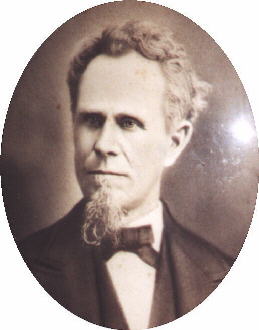 Daniel Rogers 1822-1897
---


Daniel and Lois Angeline had two children:

David Smith Rogers 1860-1938
Martha Jane Rogers 1861-1937

---


Rogers Family Main Page

Links To Other Hornby Pages Below


---


Home | Genealogies | History | Census Data | Photographs | Maps
Hornby Historical Society | Other Researchers



---


You are our visitor since 18 March 2001. Thanks for stopping by!